Concept of Netsourcing
We developed, defined and coined the initial concept of Netsourcing in 1998 and are pleased to see that it has been adopted so widely in the industry. We determined from our research into numerous application service providers (ASPs) in the late 90s early 2000 that the future of accessing application will be via the Internet.
Netsourcing is the practice of renting or "paying as you use" access to centrally managed business applications, made available to multiple users from a shared data center over the Internet or other networks via browser-enabled devices.
Netsourcing essentially allows customers to receive business applications as a service.

Netsourcing Solution
Underlying the Netsourcing concept are the Application service providers (ASP). They are the harbingers of the third wave of information technology (IT) outsourcing. Their rise as service firms that provide on a contractual basis, rentable or 'pay-as-you-use' access to centrally managed applications made available to multiple users from a shared data center over the Internet or other networks, did not exactly come unexpected. ASPs were looming on the horizon to the extent that they encapsulate the paradigm shift becoming evident in the way organisations adopted the internet, outlined new radical application strategies to integrate the internet; more and more have been using external IT services to compensate for missing skill and capability-sets. Moreover, underlying interest in the ASP model are a number of technology drivers - the rapid maturing of the internet as a reliable and secure network, the acceptance of browsers as the new application interface, the increasing adoption of server-based computing (network computers and thin-client server systems) and the recent growth of electronic commerce and supply chain management (e.g. ERP) applications.
However, what are the options ASPs can offer to interested customers and what are the selection, evaluation, risks and strategies and relationship issues to consider?
Customer Decision Drivers for Netsourcing: Are you ready to rent your business applications over a network?
DOWNLOAD PAPER HERE!
Market, players and services
With more than an estimated 200 firms fitting the ASP definition today, and a predicted 400% annual growth rate reaching an estimated $22bn market size in 2003, this service defines for many interested parties an attractive new sourcing option. At present, the ASP market consists of a diverse range of established and new start-up service firms, including internet service providers (ISPs), telecommunication and network infrastructure providers (Telcos), independent software vendors (ISVs), online software companies, system integrators and outsourcing service vendors. Together they offer access to an immense array of applications, and indeed a number of SMEs and large enterprises, such as Excite, AltaVista, BASF, Levi's, and Arthur Andersen have already signed short and long-term contracts with ASPs. At present most media attention focuses though on the fast growing US ASP start-ups such as Corio, Futurelink, and Interreliant, although the market will see in its maturing phase an aggregation shift as large outsourcing providers, such as IBM, EDS and CSC determine their ASP strategy. These firms will be able to offer those kind of resource capabilities, expertise, technology and geographical presence that will make the ASP business model an attractive option to the global fortune 1000 businesses.
Netsourcing - ASP Marketspace Report – Early Adopters of Netsourcing Solutions
DOWNLOAD REPORT HERE!

Technology infrastructure
The ASP technology and service platform integrates the concept of network computer and thin-client server systems, by use of browsers as the key interface vehicle. This allows ASPs to offer applications services across any type of network from the Internet to a proprietary network. The basic ASP architecture consists of six core dimensions. The vital link between all of them is the fundamental security layer (see Figure).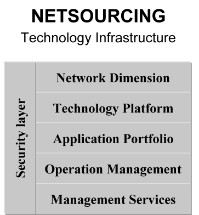 Briefly explained:
1. the essential security layer prevents third-party intrusion and controls user-access to the network and technology platform.

2. Undergirding the ASP service model is the network dimension, which defines the physical access point or connectivity service to a local area network, wide area network, internet or other defined network.

3. The technology platform defines the physical and logical hardware and software platform that hosts the application services. The size and co-location of the server and database architecture prescribes the physical technology core of the ASP service model.

4. The application portfolio determines the business and service functionality an ASP can offer to a potential customer.

5. Operation management outlines the service and facility management for which a customer contracts an ASP. Commonly, this involves management of the technology platform, application, network, and security layer.

6. Management services prescribes the actual customer and user interface dimension in the ASP service model. The strong point and basis of the ASP business is their application expertise, consulting services, system integration and implementation, customization and application management skills.
Evaluation and ASP Selection
To make an informed decision about what the ASP model holds for customers it will be essential to learn about the benefits, limitations and options the market holds. These will be made explicit by industry insights about what the true benefits and limitations are and together will foster a rich set of findings to help potential parties evaluate and inform the selection process of an ASP.
Exploring the ASP Sourcing Option
DOWNLOAD PAPER HERE!

Risk Management
According to our most recent research into ASP outsourcing, inherent to the technology platform and service model are a number of risks for both ASPs and customers that can be categorized as technical, contractual, managerial, and organizational. Together these were found to not only influence, but determine the success or less success of the overall deal. This stands in light of a study by Forrester into application hosting that highlighted that 50% of the organizations surveyed were extremely dissatisfied with their hosting providers service, technology and expertise. Awareness of the possible risks in an ASP venture will help customers in preparing their outsourcing strategy, but also highlight those areas that ASPs need to reassure clients about having sufficient competencies to minimize and alleviate such risks.
Netsourcing / Application Service Proivison (ASP): Risk Assessment and Mitigation
DOWNLOAD PAPER HERE!
Service Provision and the Net: Risky Application Sourcing?
DOWNLOAD PAPER HERE!

Strategic Options in the E-marketspace
A wide set of strategies is currently pursued by ASPs. Dependent on their originating background and vision for their company, current players are rapidly expanding their customer base. However, the market is rapidly evolving as new players enter the market. Here the concern must be to move from an ASP provider who focuses to on commodity based applications to a supplier who can offer a portfolio of applications. By use of our understanding and insight into the ASP market and business model we develop a strategic grid that allows ASPs and those firms planning to move into the ASP market to focus their business on where to go. By use of this strategic grid, we then elaborate the different ASP options customers can choose from to satisfy their application, costs and value-added service needs.
Netsourcing / ASP Service Sourcing Strategies – Perspectives and Propositions for Practice
DOWNLOAD PAPER HERE!

Relationship Management
Having gone down the track of actually signing up an ASP to handle your applications, it becomes essential to carefully develop, maintain and build a strategic relationship that promises to deliver those benefits that customers sought by contracting with the provider. Here dimensions and areas that need careful management according to our extensive experience on the issue are outlined. Awareness, but also means of managing the relationship, will help customers and ASPs to ensure they foster a win-win situation.

Future Evolution
Finally, we round off our book by looking to the future, and the likely issues will be for the Netsourcing solution and general ASP market. Here, we will also outline a number of key lessons that all parties (customers, companies, solutions providers and interested parties) should keep in mind.